Fully automated, totally integrated lighting control.
Vision Living provides fully automated, totally integrated, lighting control at the touch of a finger.
Mood lighting for an intimate dinner, lighting that magically alters and subdues during the course of an evening get-together, illumination to read by, a welcoming light that brightens to show you the way on entering the home and then gently fades behind you.
Vision Living does it all, quickly, easily, seamlessly.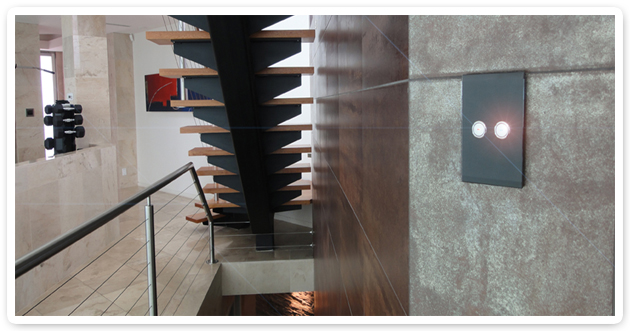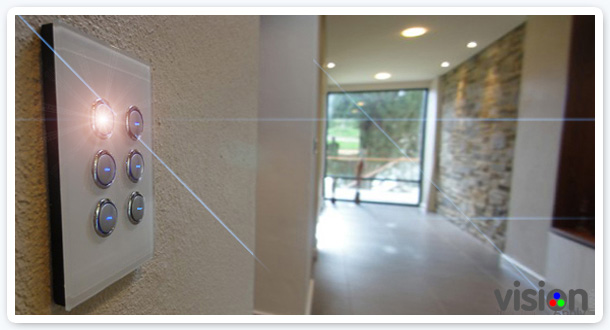 Total Home Control
Vision Living can customize your C-Bus installation to control your motorised curtains, blinds, ceiling fans, water fountains, spa, garage door, or even change the radio station or TV channel from any light switch.
If you are considering installing electronic lighting such as C-Bus in your home or business, Vision Living can transform your lighting system into something very, very special.

What is C-Bus?
C-Bus is a microprocessor base control system. It's an electronic lighting system that permits the light switches to be programmed to perform a range of functions.

With C-Bus...240 volt electrical current does not flow to the light switch.
Conventional electrical light switches permanently control particular light circuits however with C-Bus this is not the case.
With C-Bus there is no such thing as two (2) way light switches. C-Bus buttons are totally programmable and as such you are virtually free to change your mind and have the a button re-programmed to your liking.

The importance of using an Accredited Integration Professional.
A typical C-Bus installation will give a home owner control over lighting which may include dimming, irrigation control ... this is a far cry short of Total Home Control. To combat this problem, Clipsal has accredited an elite range of companies who have years of experience in system design, systems programming and extensive knowledge of third party compatible devices.
They are called C-Bus pointOne accredited integration professionals.
Vision Living is one of only a few South Australian residential pointOne accredited integration professionals.

How do you get Total Home Control?
C-Bus does not automatically give you Total Home Control.
In most cases a standalone C-Bus installation will only give functional lighting control and in a residential application, it's difficult to justify the investment. What you basically end up with is a series of very expensive light switches.
A sucessful C-Bus installation requires design, preparation and installation of compatible third party products and then finally system programming to bring the whole project together.
If you are considering installing C-Bus in your new home, you need to be aware of pointOne integration as you could miss out on some of the key benefits C-Bus has to offer.
For C-Bus to do it's job to it's full potential, it needs to talk to your third party devices. e.g.