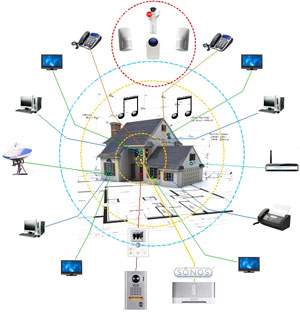 Smart Home Wiring
How do you make sure that you'll be equipped with the correct wiring infrastructure to handle all of your needs, both for today and for the future?
The best wireless technology is distributed throughout the home using a hard-wired backbone. Vision's structured wiring specification handles not only Ethernet communications but also multiple phone lines, cable and satellite HDTV, in-home video distribution, Wi-Fi networked computing and security systems.
The pinnacle of Vision's Smart Home Wiring can allow the entire home to be automated.
Contact Vision Living to arrange for an in-home consultation.
Smart Home Security and CCTV
A good security system offers peace of mind.
It helps protect the things that are precious to you – your family, your possessions and your personal safety. Vision will enhance your security options and offer a level of interactive control not available in standalone systems.
A Vision enhanced security system will allow you to activate your entire system, lock or unlock doors and gates, illuminate a darkened area to improve visibility, monitor your home's entry points and grounds, authorise entry to your home and unlock a door. You can view the pool area or check any room in the house covered by CCTV – in fact anywhere you have a camera installed.
Vision lets you view it from the comfort of your own desk, television screen... even from your laptop a half a world away.
Vision's lighting control systems has features that can help maximise home protection and safety by programming a full house of lights when the alarm is triggered and at the same time selected curtains and blinds can automatically open exposing any intruder … this is only one of the many options that can be considered and tailored for your home.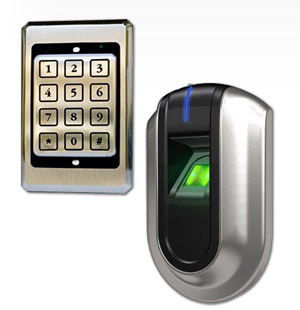 Smart Home Access Control
With Vision's Access Control you choose who goes in where and when.
It starts with computer programmed access credentials issued to every person who is allowed to enter. Software defines the entrances, times and rules for entry of each person. This information is then distributed to various door control panels for quick, dependable decision making each and every time a person requests to unlock a door.
Elevators can also be integrated to an access control system, offering a higher degree of security for offices and residents.
Vision's Access Control can include Key Pads, Biometric Fingerprint Readers and Swipe Cards.
Smart Home Intercoms
Simple yet effective choices can significantly enhance your living environment.
Vision's intercom systems can allow you the ability to open locked gates and doors to let friends and family into your home. See who's at the door from within the privacy of your home. Talk to a stranger from the safety of your home or simply choose not to... the choice is yours.
Vision's discreet room to room intercom systems are designed to give you communication throughout your home. Broadcast a message or select a room for one on one conversation... the choices are yours.